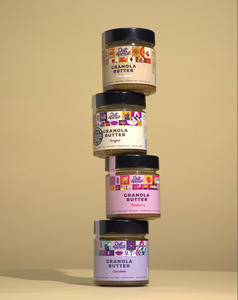 Oat Avenue - UK's First Granola Butter!
Wait, what is granola butter again?
It's the new kid on the block. It's here for those with dietary restrictions and for everyone else. Our granola butter is Vegan, Gluten Free, Nut Free and Refined Sugar Free.
Why is it so amazing? It such a treat for your tastebuds and it brings you so much joy with every spoonful. Think of granola in a spread form with combination of a smooth and crunchy texture.
Granola butter can be enjoyed on a yummy cozy porridge, on toast, in smoothies, in baking, or straight out of the jar.
Or if you find another creative way to enjoy our granola butter share the love on our socials. We can't wait to hear from you.
@oatavenue #oatavenue #granolabutter